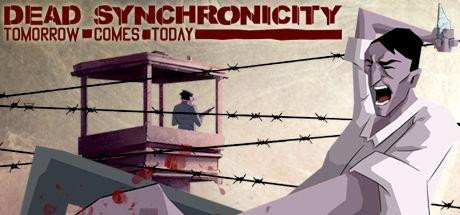 Description GOG :
Les ténèbres. Rien que les ténèbres. Et la lumière fut… Mais elle ne fut pas suffisante pour éclairer Michael sur son identité et sur les bouleversements que traverse le monde. La Grande Vague, les Dissous… ne sont plus que des mots vides qui résonnent dans son esprit dévasté. "Dead Synchronicity : Tomorrow comes Today" est la première partie de la série "Dead Synchronicity" : Aidez Michael à affronter une réalité déliquescente et un univers qui disparaît peu à peu. Imaginez un monde sans pitié, à vomir et qui dépérit. Imaginez que vous n'avez plus de passé, pas de présent et pas d'avenir. Imaginez l'imminence d'une «simultanéité chaotique ». Et ne traînez pas. Sinon… que ferez-vous lorsque le temps lui-même se décomposera ? Une terrible pandémie affecte tous les Hommes et les transforme en Dissous, ces êtres infectés dont la frénésie leur confère des pouvoir cognitifs surnaturels… et les mène tout droit à une effroyable et inexorable mort. Ce mal semble provenir de la Grande Vague, cette série inexplicable de catastrophes naturelles qui a anéanti toutes les sources d'énergies, détruit toutes les communications et plongé le monde dans un chaos dans lequel les autorités et l'armée règnent d'une main de fer. Il vous faudra aider Michael, un homme sans passé, à recouvrer son identité et à comprendre les événements qui ont amené le monde au bord de sa destruction. Car si Michael n'intervient pas très vite, il ne pourra pas empêcher la survenue imminente d'une simultanéité chaotique… qui décomposera le temps lui-même. Dead Synchronicity : Tomorrow comes Today est un jeu d'aventure point and click en 2D au scénario teinté de dystopie. Ce jeu rend hommage à des jeux d'aventure classiques (The Secret of Monkey Island, Les Chevaliers de Baphomet, Day of the Tentacle…) mais dont le thème est plus noir, dans la lignée d'I Have No Mouth, And I Must Scream et autre Sanitarium.
Gameplay de jeu d'aventure classique porté par un thème très sombre
Des graphismes en 2D d'un style expressionniste unique
Des distorsions de l'espace-temps, une ambiance dystopique… et une intrigue noire et sanglante
Bande-son signée du groupe de rock indé Kovalski
« Un mélange de Guybrush, de Mad Max et de L'Armée des 12 singes »
___________________________________________
Le jeu est normalement le premier d'une série....
Tests du jeu par Fallout Génération
Configuration minimale requise - Windows: Windows XP / Vista / 7 / 8 / 10
Processeur : 2 GHz Dual Core CPU
Mémoire : 2 Go de RAM (4 Go de RAM pour Windows Vista ou supérieur)
Carte graphique : Nvidia GeForce 8600 GS, ATI Radeon HD 3470, DirectX: Version 9.0c
Disque Dur : 4.5 Go d'espace libre
Carte son : Carte son compatible DirectX 9.0c avec les derniers pilotes
---
Report Record