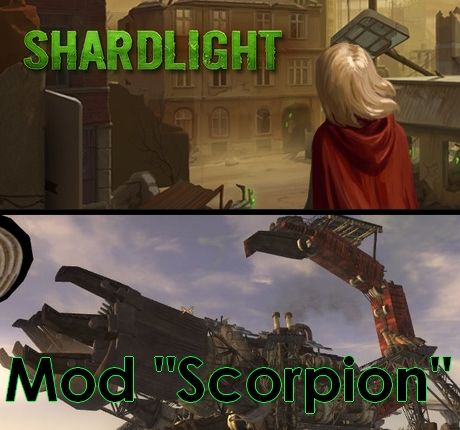 TEST : Shardlight et le mod "Scorpion" pour New Vegas
---
1er test :
Shardlight : Dans la lignée des point and click
Une aventure post-apo.
Sharlight est un point and click... POST-APO ! Pas forcément très courant en ce moment, ou du moins, ce genre de jeu n'est pas vraiment mis en valeur... Alors, allons-y et testons le petit nouveau du studio de Wadjet eye game. Cette boite est connue pour, notamment, Technobabylon et  Primordia. Ce dernier est aussi un point and click post-apo avec une direction artistique maîtrisée et des atouts de tailles... On retrouvera naturellement un air familier dans le nouveau produit du studio !
Voilà la description du jeu sur la fiche steam :
Citation

The world ended on the day the bombs fell. Since then, it's always been like this: disease, hunger, death. The ruling Aristocrats — a faceless oligarchy that controls all resources — have unchallenged authority. There's never enough food, water, or vaccine to go around. The rich receive regular doses of vaccinations in exchange for their unconditional government support. The poor live in fear, superstition, and squalor until they die.

Amy Wellard, a young woman reluctantly working for the government to qualify for the vaccine lottery, believes there's a cure — and she's going to find it. Even if it costs her her life.
Le jeu est anglais uniquement et c'est bien dommage. Après un patch FR pour Primordia on est en droit d'espérer la même chose pour Shardlight.
Je vous laisse parcourir mon Test complet de Shardlight si vous voulez en savoir plus !

________________________________________________________________________________________________________
2ème test :
Le mod scorpion de New Vegas :
"Ce mod propose une habitation plutôt original, situé non loin de la clinique du Dr Usanagi.
En effet, c'est un gigantesque scorpion que vous allez occuper."
Test complet de @Buffy : cliquez ici



~Hekan
Edited by Hekan
---