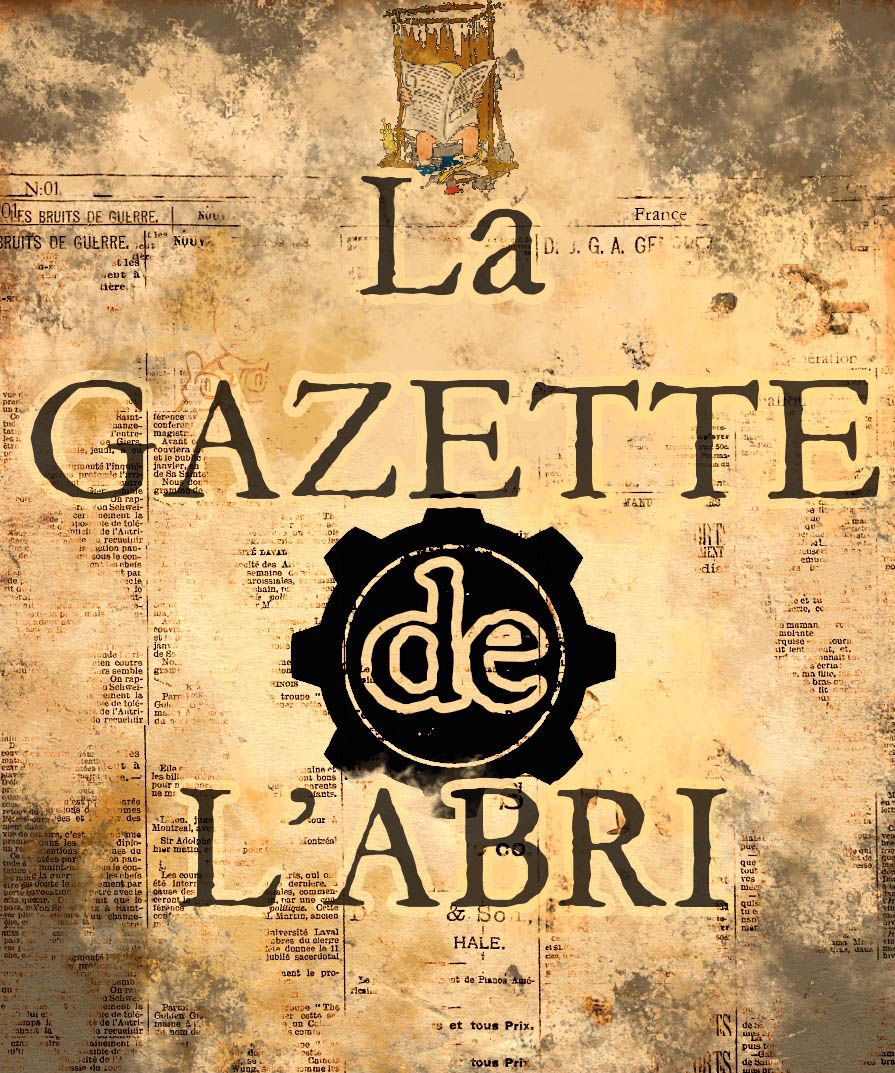 La gazette de l'Abri -- N°1
---

Salut les irradiés !
Aujourd'hui, on fait une belle grosse news pour vous annoncer tout plein de bonnes choses !! Des jeux indés en développement, de nouvelles vidéos à suivre...   
On commence par ce qui pourrait être une sacrée bonne nouvelle :

News 1 : Borderlands 3/4 
Bientôt en développement ?
Habitants de l'Abri, aimez-vous les shooters déjantés ? Les gerbes de sang ? L'humour noir et décalé ? Le cel-shading ?
Oui ? Alors la nouvelle glanée vendredi par Eurogamer à la PAX devrait vous enchanter ! Il semblerait que Borderlands soit bientôt mis en développement. En tout cas, c'est que laisse clairement entendre le directeur de Gearbox studios : "it's no secret there's going to be another Borderlands." -> Ce n'est pas un secret qu'il y aura un autre Borderlands.
Cela dit, le nom de celui-ci n'est pas encore arrêté, il se pourrait qu'il ne s'appelle pas Borderlands 3, mais Borderlands 4 ! Les deux étant parfaitement logiques, compte tenu du fait que le prochain Borderlands sera le 4ème jeu de la franchise Borderlands (1, 2 et Sequel l'ont précédé), mais aussi probablement une suite du 2. Pitchford (Ndr : Le directeur de Gearbox) a déclaré "We don't even know if we're going to call it [Borderland 3]" "We could call it Borderlands 4 for all we know." -> "Nous ne savons même pas si nous allons l'appelé Borderlands 3 !" "Nous pourrions tout aussi bien l'appeler Borderlands 4, à ce que l'on sait !".
Quoi qu'il en soit, le directeur artistique de Battleborn, Scott Kester, travaillera sur le nouveau Borderlands. Et c'est le directeur créatif de Battleborn, Mikey Neumann, qui l'écrira !
Durant la PAX, Pitchford a également fait mention des easter eggs présents dans Battleborn, disant que ceux-ci viendraient des précédents Borderlands, mais il a également laissé entendre, que peut être, certains de ces easter eggs pourraient être liés au prochain Borderlands, ou pour le moins, à un prochain jeu : "There's already a lot of Borderlands Easter eggs in Battleborn, but they're all from previous Borderlands games. So what if we put Easter eggs for future stuff in the DLC?"
Alors, pourrions-nous espérer que le développement de Borderlands 3 prenne son départ à la fin de celui de Battleborn ? Peut-être, wait and see !
Quelques images de Borderlands 2, pour nous remémorer ce sympathique jeu !
Source : VG247
~Eldrak
________________________________________________________
News 2 :  Seven : The Days Long Gone
RPG post-apo type 90's
Seven est le premier projet de Fool's Theory. Ce studio polonais est composé de "Vétérans d'entreprises AAA" qui ont bossé notamment sur des titres à succès comme :
The Witcher 2 : Assassins of Kings
The Witcher 3 : Wild Hunt

(On ne le présente plus)

Ancient Space
Hard West (Excellent 3D iso : une discussion ici)
Kholat
Seven est un RPG en 3D iso, déjà ça donne envie, hein ? Et puis, il reprend les codes des RPG occidentaux des années 90. On retrouvera donc pas mal de similitudes de gameplay avec Wasteland 2, Pillards of Eternity et autres... La possibilité de monter sur des bâtiments annonce une exploration verticale, nous verrons si c'est bien réalisé.


Le speech :
" Après l'apocalypse survenue il y a plusieurs siècles, l'humanité a remis en place une société plus civilisée. On n'est pas encore à celle d'Avant, mais les galères post-apocalyptiques sont derrières, les choses sont plus organisées... Vous incarnerez un voleur libéré de prison. L'île de Peh sera votre terrain de jeu et le démon Artanak vous hantera..."
Énigmatique, hein ?
Un trailer et un gameplay de 20 min en spoiler, rien que pour vous :
On suivra le développement avec intérêt et envie !
~Hekan
________________________________________________________
News 3: Des nouveautés sur Youtube
Une websérie et un let's play interactif
@poulpy nous a fait part de l'apparition d'une websérie post-apo française : Spotters' rift. Elle est inspirée de Dayz Standalone !
Les 2 premiers épisodes sont disponibles sur Youtube ! Bravo à eux pour leur travail !
Premier épisode en spoiler :
Ensuite, @Cam' nous partage la trouvaille d'un let's play interactif sur Fallout New Vegas du Youtubeur : "Many a true nerd". Dans ses vidéos, il propose différents chemins à travers le wasteland, et c'est à vous de choisir au fur et à mesure !
Le commencement du périple est en spoiler :
En Bref : Deux nouveaux jeux intéressants, Borderlands 3 et Seven ; une nouvelle webserie à laquelle nous souhaitons de réussir, et un nouveau let's play de Fallout New Vegas, voilà qui a de quoi assurer au post-apo de belles choses pour l'avenir !
~Eldrak, Dr Gast et Hekan

---